Save Me The Plums PDF Free Download
Memo to All Gourmet Staff
September 11, 2001
Extract one single page from a PDF to save as a brand new, single-page file. Simple, intuitive, and free-to-use. Here's how: Choose the shape of the label. Decide whether you want to print a standard label (a PDF) or customize your own (in a Word 97-2003 format) Then you will choose the label fruit or vegetable and download the PDF or Word file. Note: every browser is different, most like Chrome just download the file and you will see it in the bottom. 4GB free disk space. The more powerful your CPU, the more instruments and effects you can run. Apple Silicon (M1) Rosetta 2 supported. Native version under development. This installer provides the Full and Trial FL Studio versions. The Trial is equivalent to FL Studio Producer Edition + All Plugins Edition, with a few. FPDF is a PHP class which allows to generate PDF files with pure PHP, that is to say without using the PDFlib library. F from FPDF stands for Free: you may use it for any kind of usage and modify it to suit your needs. FPDF has other benefits: high level functions. Here is a list of its main features: Choice of measure unit, page format and margins.
The magazine is closed until further notice. But our kitchens are standing idle. . . . This is not a command performance, but I'm going to 4 Times Square to cook for the workers at Ground Zero, and you're welcome to join me. Buy some groceries and meet me in the morning. It may not be much, but it's what we can do.
Then I put in a call to Drew Nieporent, the largest personality in the restaurant world, figuring he'd have a plan. When Drew opened Montrachet in 1985, it was the first high-end restaurant in the area that would soon become Tribeca, and he now owned a handful of iconic restaurants that had once stood in the shadow of the Twin Towers: Nobu, Tribeca Grill, Zeppole. Yes, he said, of course he was planning on feeding the rescue workers. We agreed that my crew—whoever they turned out to be—would cook all day and then meet him downtown so we could distribute our food together.
My expectations were low; people were busy comforting their families, and I thought a mere handful of the staff would show up. But when I walked into the kitchens at 9:00 a.m., the place was packed. Word had gone out—Drew, of course—and people were desperate to help. A restaurant PR person showed up with her parents, an ad salesman from GQ came with his kids, and one of the sales reps brought his entire family. In this mad mix of food lovers, half were strangers.
I channeled my inner Larry: You should send everyone who's not staff away. There are insurance issues. What if someone cuts off his finger? What if someone sues?
Then I silenced the voice: The regular rules did not apply. I cranked up the music, and as the kitchens filled with the scent of chili and chocolate, we began to dance, defiant in the face of disaster.
We all knew why we were there, knew it was as much for ourselves as for the firefighters, knew we were attempting to snatch hope from the rubble of our broken city. And food was the perfect way to do it.
Around five we packed great trays of chili, cornbread, lasagna, and brownies into coolers, loaded them into my van, and headed downtown. We passed a checkpoint at 23rd Street and another at 14th. Down here it was all dust and rubble, growing thicker with each passing block. By the time we reached Canal Street, the streets were no longer passable, and we abandoned the van, shouldered the chests of food, and headed to meet Drew at Montrachet.
We weren't the only ones feeding the rescue workers; chefs from all over the city set up makeshift kitchens around the disaster. But we were the only ones who took our food right into the heart of Ground Zero, and although we'd seen it on television, nothing had prepared us for this horror. It was a bombed-out war zone, a zombie space that no longer resembled any New York I'd ever known.
Near what had once been Reade Street, a fireman handed out face masks, and we tied them on and marched in, tripping over hoses with our cases of food. Above us the surviving skyscrapers tilted at uncomfortable angles, staring vacantly down through blackened holes that had once been windows.
Save Me The Plums Pdf Free Download Books
Lured by the scent of chili and cornbread, exhausted firefighters came stumbling out of the dust. Covered in white powder, they were like ghosts staggering through the smoke.
"Is that chili?" A man collapsed onto a broken beam and pulled off his respirator; his mouth gleamed beneath the ashen grime of his face as he fell upon the food.
It wasn't much; it was a bowl of chili. But when the man looked up and said, "Thank you for this taste of home," I looked around at the dust and smoke and chaos and began to cry.
I remembered that moment a week later, when I sat down to write the monthly Letter from the Editor.
"We were almost finished with this Thanksgiving issue," I began, "when the world fell apart." Then I stopped; it had only been seven days since the Twin Towers came down, and none of us knew what lay ahead. I was writing into a vacuum. "Because monthly magazines are written long before they actually appear on your doorstep, I have no idea what life will be like when you read these words." It was the first time that I understood, really understood, that the world would never be the same.
I thought about my own Thanksgiving, wondering what it would be like this year. I heard the firefighter's voice once again and realized that in the rubble of the World Trade Center I'd suddenly understood the true meaning of food. I knew, without any doubt, that as long as I lived, chili would be one of the ways in which I offer thanks.
Thanksgiving, of course, isn't Thanksgiving without turkey. So my Thanksgiving chili is a turkey version based on a beloved Gourmet recipe. I made it in 2001, and since then our Thanksgiving table has never been without it. It reminds us, sadly, of the friends we lost on 9/11—and of the many reasons we have to be thankful.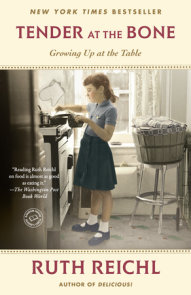 Recipe: Thanksgiving Turkey Chili
1 tablespoon cumin seeds
3 canned whole chipotle chilies in adobo
1 bottle dark beer
2 pounds tomatillos (husked, rinsed, and quartered)
3 tablespoons vegetable oil3 large onions (chopped)
1/2 cup fresh cilantro (chopped)
2 teaspoons fresh oregano (finely minced)
2 jalapeños (diced; if you don't like heat, remove the seeds)3 1/2 pounds ground turkey
1 1/2 cups chicken broth
Salt
8 large cloves of garlic (peeled but left whole)
1 bay leaf
2 cups cooked white beans
1 4 ounce can diced green chile peppers
Cream sherry
Balsamic vinegar
Sour cream
Toast the cumin seeds in a dry skillet until they're just fragrant. Allow to cool, then grind to powder.
Richard Ferretti Gourmet
Puree the chipotle chilies with the adobo.
Put the beer into a medium-sized pot, add the tomatillos, bring to a boil, and turn the heat down to a simmer. Cook for about five minutes, until the tomatillos are soft. Strain the tomatillos (reserving liquid), and puree in a blender or food processor. Pour back into the pot with the beer.
Slick the bottom of a large casserole with a couple of tablespoons of oil, and sauté the onions until they're translucent. Add the cilantro, oregano, jalapenos and cumin and stir for a couple of minutes. Break the turkey into the mixture and stir until it just starts to lose its raw color. Add the pureed tomatillos and beer, the chipotle purée, and the chicken broth, along with a couple of teaspoons of salt and the bay leaf, and simmer the mixture for about an hour and a half.
With a large spoon, smash the now-soft cloves of garlic and stir them into the chili. Add the white beans and diced chile peppers and taste for salt. At this point I like to start playing with the flavors, adding a few splashes of cream sherry, a bit of balsamic, or perhaps some soy or fish sauce. Heat for another 10 minutes.
Serve with sour cream.
Save Me The Plums Pdf Free Download For Windows 7
Serves 8.
Save Me the Plums
Author : Ruth Reichl
File Size : 56.51 MB
Format : PDF, Kindle
Download : 134
Read : 948
Download »
Save Me The Plums Pdf Free Download By Jeff Kinney
NEW YORK TIMES BESTSELLER • Trailblazing food writer and beloved restaurant critic Ruth Reichl took the job (and the risk) of a lifetime when she entered the high-stakes world of magazine publishing. Now, for the first time, she chronicles her groundbreaking tenure as editor in chief of Gourmet. "A must for any food lover . . . Reichl is a warm, intimate writer. She peels back the curtain to a glamorous time of magazine-making. You'll tear through this memoir."—Refinery29 NAMED ONE OF THE BEST BOOKS OF THE YEAR BY Real Simple • Good Housekeeping • Town & Country When Condé Nast offered Ruth Reichl the top position at America's oldest epicurean magazine, she declined. She was a writer, not a manager, and had no inclination to be anyone's boss. Yet Reichl had been reading Gourmet since she was eight; it had inspired her career. How could she say no? This is the story of a former Berkeley hippie entering the corporate world and worrying about losing her soul. It is the story of the moment restaurants became an important part of popular culture, a time when the rise of the farm-to-table movement changed, forever, the way we eat. Readers will meet legendary chefs like David Chang and Eric Ripert, idiosyncratic writers like David Foster Wallace, and a colorful group of editors and art directors who, under Reichl's leadership, transformed stately Gourmet into a cutting-edge publication. This was the golden age of print media—the last spendthrift gasp before the Internet turned the magazine world upside down. Complete with recipes, Save Me the Plums is a personal journey of a woman coming to terms with being in charge and making a mark, following a passion and holding on to her dreams—even when she ends up in a place she never expected to be. Praise for Save Me the Plums "Poignant and hilarious . . . simply delicious . . . Each serving of magazine folklore is worth savoring. In fact, Reichl's story is juicier than a Peter Luger porterhouse. Dig in."—The New York Times Book Review "In this smart, touching, and dishy memoir . . . Ruth Reichl recalls her years at the helm of Gourmet magazine with clear eyes, a sense of humor, and some very appealing recipes."—Town & Country "If you haven't picked up food writing queen Ruth Reichl's new book, Save Me the Plums, I highly recommend you fix that problem. . . . Reichl is in top form and ready to dish, with every chapter seeming like a dedicated behind-the-scenes documentary on its own."—Soleil Ho, San Francisco Chronicle